Scenery for your gaming table
We are proud to present our first building:
The Small Stonecottage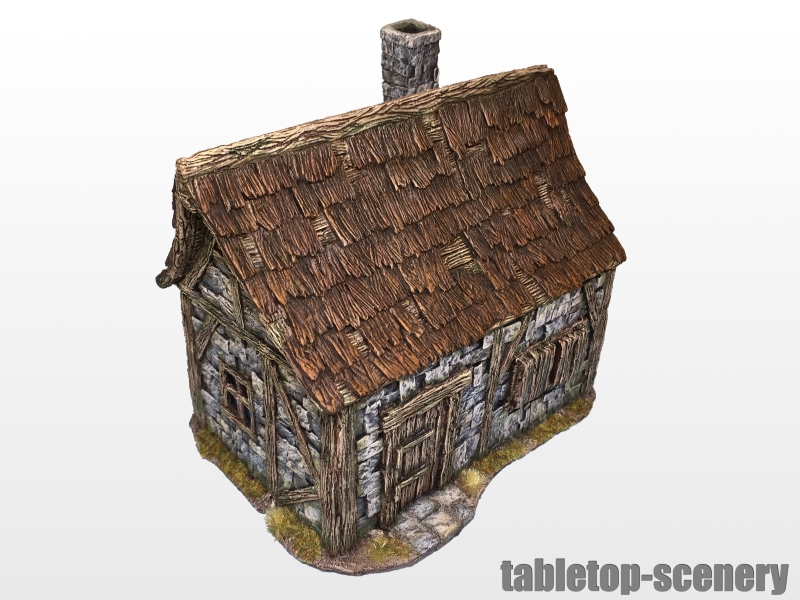 An excelent extension for you gaming table or diorama!
A highly detailed building for any fantasy or medieval tabletop in 28mm scale. Since its interior is also designed in detail, you can also use it for any skirmish tabletop.
It is very easy to assemble, no gluing necessary.
The product is delivered unassembled and unpainted.

Painted examples (click to enlarge)
What you get*
Size: 14,7 x 11 x 12,4 cm
Weight: 330 g
Material: Resin

*The quality of our products is carefuly tested after production. We use resin, since it is perfect to maintain all the details. Small variations and airbubbles can never be excluded but can easily be fixed with any modeling clay.
To get the best results, wash and apply ground coat before painting.

If you want to learn more about handling resin kits, take a look at our Instructions.

The presented models are no toys, can include small parts and are not intended to be used by small children.
Do you like, what you see?
Than take a look at our Online-Shop or send us an email at: shop@tabletop-scenery.de. We would be pleased to receive your feedback.